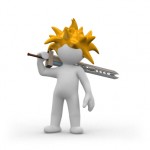 Over this past weekend, I learned about a terrific exercise from Don Crowther that not only provides relevant content fodder but helps keep marketers focused on their audience in all of their communication.  It is simple, efficient and extremely effective at ensuring laser focused communication with your customer.  The exercise does however, require that you know your avatar.
In case you aren't aware of what an avatar is, it is essentially a description of your ideal customer.  Many marketers advocate creating a description of your ideal customer to the point of finding a picture to mount on your monitor and even giving him or her a name.  This practice reaches far beyond merely identifying demographics.  The point behind the work is to better facilitate the conversation you are having with your customer.   Any communication that is then written to that person will then be more on target than one written to a group of 40-45 year old males, for example.
To get you started thinking about your avatar, some of the things you may want to know about your avatar include (but aren't limited to);
Sex
Age
Is he or she married?
Does he or she have children?  How many?
What is his or her profession?
Where does he/she work
Where does he/she live
Hobbies
Interests
Political or religious affiliations
Fears
Frustrations
Worries
Aspirations
Once you know who your avatar is, and where you can find them, you then learn as much as you can from them about their 'what', their needs, interests, worries and frustrations and here is where this great new exercise comes in.   Given all that you know about your avatar, develop a list of 50 topics that they are interested in and want to know about.  This list is pure gold and if you do know about your avatar, won't take an extreme amount of time to develop.  Ideally, you can then grow your list to 100 or 150 topics.
Now armed with this list of key topics that are 100% targeted to your avatar, you have a blueprint for new content for your blog posts, email and any other communication that you may want to send to your customers.  You will never struggle for topics again.
I hope this exercise provides as much value for you as it did for me.  It's so simple and yet so far-reaching.  How well do you know your avatar?  Please leave a comment below and let me know what you think.