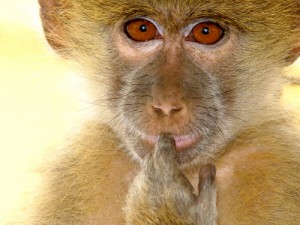 What exactly is "Monkey Mind' and what do you do about it?  You have no doubt heard about and have more than likely experienced monkey mind, particularly if you are in the midst of big change(s) in your life.
The term "monkey mind" was first coined by Zen Buddhist monks to describe the state of mind when that continuously jumps from one thing to another much as a monkey jumping between trees.  According to wikipedia Mind Monkey "…is a Buddhist term meaning "unsettled; restless; capricious; whimsical; fanciful; inconstant; confused; indecisive; uncontrollable". …
Yoga.About.com defines Monkey mind: "Describes a mind that jumps from thought to thought like a monkey jumps from tree to tree. The monkey mind is not content with exiting in the present moment, but rather engages in the thoughts that pass through."
There actually is a purpose served by our monkey mind.  The 'purpose' if you will, is to process as much information as quickly as possible to aid in our survival and protect us even though at times, it seems to be contributing to our demise <g>.
Monkey mind is most prevalent during times of greatest change(s) in our lives. Think of the times when you started a new job or began a new adventure, and very shortly began to feel quite overwhelmed with the influx of too much new information.
We've all been there.  We all fill multiple roles in our lives as mother, sister, daughter, student, employee, or entrepreneur, housekeeper, gardener, etc. and all of these roles come with lists upon lists of to-dos that float relentlessly in our brains.
In a recent blog post, "Is this noise inside my head bothering you?" Seth Godin described a few of the multiple conversations and competing priorities going on in our heads as;
"The ego–seeks applause and recognition.
The lizard–seeks safety, wants to fit in and not be rejected or criticized.
The artist–wants to be generous, creative and make positive change with impact.
The boxer–wants to poke and be poked, seeks revenge and ultimately victory.
The zombie–wants to turn off and be entertained.
The carpenter–seeks to do useful work, and finish it well.
The philanthropist–wants to help, anonymously.
The evangelist–wants to spread an idea.
And the hunter–wants to successfully track and bring down a target…"
Taking this one step farther, if we apply each of these 'functions' to each of the respective roles that we play it's a wonder that we can function at all!  Often leading to a release of adrenaline or or robbing us of a good night's sleep, monkey mind can zap us of much needed energy when we need it the most and at the very least, can be incredibly distracting, so what can we do about it?
First, and most importantly, recognize what is going on, that it is just another obstacle to overcome and try to stay as present as possible.  Focus on your breath and breathing, practice meditation (on a regular basis) and direct your mind to FOCUS on the most important items on your list.
Paper and pen can be your best friend.  Once we recognize what is going on, we can direct the mind to focus by getting a good number of thoughts onto paper and allowing the mind to let go of them for the time being.  Why not try some mind mapping to get everything on paper (or into software)?  If you are a 'list person', that's fine, write out your lists…everything you can think of that is on your mind, or you might try writing in a journal.  If writing isn't your 'thing', try capturing your monkeys via recorder.
Any of these techniques will help to get random thoughts corralled for later, adding to greater peace of mind and focus.  Remember to keep a pad and pen by the bed lest the monkeys start chattering in the middle of the night.
What do you think?  What are some of the techniques that you've found to be effective for calming your monkey mind? I'd love to hear from you.