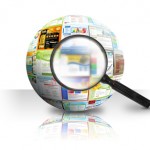 Google announced three new search features this week that I for one, can't wait to try.  The first of the three that Google revealed is Instant Search which is going to give us even faster results when actively searching for something on the web.  This one doesn't have my heart pumping quite as fast as the other two simply because they already return pretty darn fast results but it still is a very 'nice to have' feature.  As a blogger, I'm all for speeding up search and by the same token, research.
The second new feature is very cool indeed.  Google is bringing voice search to our desktops.  If you use voice search on your mobile device already, you already know that this is a very fun feature.  It enables search by way of speaking to the Chrome browser and off it goes.  (Yes, you need to be using Chrome in order to check it out.)  This new feature will be extremely handy for multi-taskers or those who have accessibility needs for one reason or another.
You do still need to launch Chrome and click on the microphone manually (unless you have other software to do that part) but imagine if you will, what it will be like when you can do those two things by voice control?  You'll be able to drive your searches from across the room or while your hands are otherwise completely occupied!  I'm thinking of an example such as  cooking, have your hands in the dough or stirring the risotto and desperately need to check a recipe.  You could be in the middle of any manner of things and want or need to do a quick search and this feature could be a godsend.
If you want to try it out, (in Chrome) just look for the small microphone symbol to the right of the search box and click that…then simply let Chrome know what you want to search for by speaking it aloud.  Not to worry if you don't yet have a microphone symbol.  Google says it will take several days to get these new features rolled out to all users.  Just hang in there a few days and then give it a whirl when you can.
The third new feature that really gets me going is for Google images.   We are going to be able to drop an image directly into the images search box and Google will let you know where it was taken (given that it is a known location and not your dining room or backyard, of course).  I'm extremely excited about this new feature as I have a number of photographs that I would very much like to better identify and this will (I hope) help me out.  In fact, I know someone who has a very old, unsigned oil painting with no knowledge of the origins and we are hoping that this new feature might shed some light on its history.
For that matter, you might be able to use this new feature to identify all manner of items or possible treasures.  Imagine if you will, that you have a hand-me-down cha cha from your family…something with a pattern on it that might make it identifiable or what if you want to know what breed of dog you just saw in the park.  It sounds as though all you will need to do is snap a pic and dump it into Google to learn more.  It just seems to me that this new feature has SO much potential that I can't wait to play with it.
A fourth feature (I know, I said three but if you've read this far, you deserve another) announced today is Google's new "Me on the Web" tool that alerts you to mentions or data leaks of you on the web and allows you to more easily find the tools to remove information leaked.  If you are concerned about your privacy, this could be a very handy tool for you.  You can read more about it in this PC World article about "Me on the Web".
Can you imagine everything you might do with these new features?  If you have access to them already and can give them a whirl, we'd love to know what you are able to do.  Please leave a comment and share.