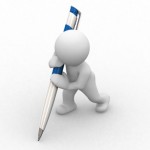 I had a heyday today thinking about creating compelling content.  I'm sure you've heard the expression "content is king" and that really is true.  Readers come to a blog to find valuable, compelling content…not garbage, so what gives them the value they seek?  What makes compelling content?  How can you keep it coming day in and day out?
Content Purpose
Compelling content should have a purpose.  I've recently seen several lists that offer guidance for the types of content to present for example, Ashton Kutcher uses the acronym "ICEE" to provide guidance for his nearly 5 million followers on Twitter.
Ashton's Acronym;
I = Inspiring
C = Connective
E = Entertaining
E = Education
Another list that I've recently seen is "Inform, Inspire, Educate or Entertain" and another "Inspire, Educate, Entertain or Empower".  These are all great and I think you get the general idea.  I like the idea of using an acronym to make it really easy to remember but I also like the idea of including another "E" : "Enlighten" which is no doubt on someone's list already.  It's just too good of a word to leave out.
It could be argued that "to Inform is to Educate"…and quite possibly to "Empower" or even to "Enlighten" however, I believe that empowering or enlightening someone is much bigger than simply educating them.
I'd like to suggest the following to capture the best of all worlds and a few additional nuances;
I = Inspire
C = Connect
E = Enlighten
E = Empower
E = Entertain
E = Educate
and my friend Deborah A Ten Brink suggested "Empathize"…another great "E".
This list not only covers it all (and then some) but has the added benefit of sounding like someone who deeply understands the concept ("I SEEEE…") 😉 which is actually the whole point.
Content Generation

Content needs to be fresh, authentic and consistently offered.  I've been asked a number of times recently about where to get fresh, compelling content.  My answer to that is "almost everywhere".  Just about everything that you do as you move through your life can be turned into or used within posts.
Here is a simple example….Cleaning the house?  See how it is similar to cleaning up your workspace or folders on your computer which relates to being organized, time management etc…Have you read a good book or seen a good movie?  No doubt you can draw parallels to online marketing or perhaps it just gives you a great anecdote and so on.
Let the authentic YOU show through by pulling in stories about/from your friends, family, pets, hobbies, interests, or work.  Yes, even (perhaps especially) from work.  Now your friends and family may not want their details spilled on the web but I'm not suggesting that you do that.
I'm suggesting that parallels can be drawn from conversations or 'anonymous' stories can become terrific anecdotes to share.  After all, you can always change the name to protect the innocent (LOL).
I do strongly suggest keeping a small notebook with you to jot down all of your ideas, so you always have a well to draw upon, especially when you are feeling a bit 'stuck'.  (I particularly like the little Moleskin notebooks as they are nice and flexible and small enough to go in your purse or a pocket).
To further inspire your writing and keep it fresh, here are a few more ideas for you:
Create Lists – Readers love to consume short quick lists such as " Top 10 or 7 etc"  or "Top 10 Money Making Blogs" or "The 7 Hottest…", "5 of the Most Powerful…"  You get the idea.  Lists are quick and easy to consume making them very popular.
Ask a question – Ask a question of your readers to get a discussion going for example "What is your favorite…(fill in the blank) or "To Blog or not to blog?"  Hector Cuevas recently asked his readers if they use single or double optins on their blogs and the question resulted in quite an animated discussion.
Micro-Blogging – Try micro-blogging on days when you are stretched for time.  If you have been inspired by a great blog post of someone else's, consider writing about that post, add your thoughts and ideas about it and then include a link pointing to that great post.
Quotes – Quotes are great on Facebook and Twitter so why not add your thoughts about that quote in a post?  Depending upon the quote, it just might inspire an extended discussion.
In General : Pay Attention
Pay attention to what others are sharing on your social sites
What topics seem to be the most popular?
What content gets the most "likes" on Facebook or tons of RTs on Twitter
Which forum topics are getting the most discussion and / or comments
Pay attention to the news. Yes, the news.
This one is almost a no-brainer.  Hot topics (good or bad) that can inspire great content hit almost every day in the news.
Pay attention to what is trending on Twitter and/or in your Tribe
Twitter is already providing this information but you can also add a 'cloud' widget to your site to track your trending topics
Enlist a guest blogger – Solicit your favorite niche bloggers to post on your site as a guest
This is a great one if you are feeling a need for fresh content and it provides benefits to not only your readers but to your guest blogger as well.  They get the added exposure to your list and your readers get exposed to more great content.
Interview other bloggers, authors or other authorities in your niche.  Much like the above, this approach provides benefits to all parties and has the added benefits of using multi-media which Google loves.
Add multi-media wherever possible.  As mentioned above, Google loves multi-media but so do your readers and it adds to your site's accessibility.  Whenever and wherever possible, give your readers a choice in how they consume your information.  Not all people places can consume streaming video smoothly at all times.  Consider adding a transcription in PDF, or an audio MP3 or…heck, why not all of the above?
Tribe – Got a tribe?  (If not, work at getting one going!)
Work with your tribe members to create synergy and syndication among members' content and /or interview each other for your respective blogs.
On Outsourcing
I am aware that some bloggers outsource articles however, I don't advocate this approach.  The issue I see with outsourcing the writing is that outsourced writing loses it's authentic, personal touch.  It is no longer coming from YOU.  If you do need to outsource to increase your productivity, I recommend that you outsource ONLY the research part of your project and do the writing yourself.
Remember to include keywords in your title, description, content and tags for the search engines and you'll be off and running!
Happy Writing!