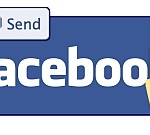 Breaking news that you'll love!
Have you heard about the Facebook "Send" button? It allows for integrating email with Facebook for sharing which means that you can now not only "Like" great content, but send it via email when you want to share the content more privately.
When using "Send" you have the option of either sending to a friend's Facebook mail or to an email account such as Gmail. How great is that?
There are already a number of blogs that have picked up on this news and are sharing the information but here is a great start…Chris Farrell posted a video on his blog that demonstrates the "Send" button use and installation. I think you'll really like it so go check it out right now and then come back and let me know what you think.
Got it? It's really very cool, yes? So tell me, are you running right off to put a "Send" button or perhaps a combination "Like/Send" buttons on your site?