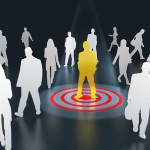 Have you been able to determine your ideal niche or have you been finding that you are interested in a wide variety of topics and feel it is just too difficult to narrow down your niche? In attraction marketing (of which I am a proponent), finding your ideal niche is a critical first step to laying the foundation for your online business. It only makes sense that you choose the topic or niche about which you are most passionate since you'll be spending the majority of your day talking and writing about it. I can't imagine trying to drum up enough content on a topic I wasn't particularly interested in to sustain a site however, there is another approach.
There is the "niche" about which one is most passionate and then there is "niche marketing" which is a perfectly valid online marketing strategy in and of itself. Rather than identifying a single niche about which one is passionate, some marketers make a living by identifying multiple potentially profitable markets and staking a presence in each. Niche marketing works on volume by drilling down into markets, identifying profitable niche markets and developing (many) mini-sites based upon those markets. (Think 'roses' rather than 'flowers'). Typically used in conjunction with affiliate marketing but can be used effectively to directly sell digital products as well.
Steps to successful niche marketing include;
Identifying and determining potentially profitable niches
Setting up sites with quality content/articles
Driving traffic to the site
Selling affiliate products (or your own) through the site
The best successful example that comes to mind of a master at this strategy is Adam Short of Niche Profit Classroom fame. Adam has been implementing niche sites for about 5 years now and now has over 300 sites. His sites bring in a wide range of income, from a couple of hundred to $10,000/mo. Not all can bring in top money of course however, he does make the point that one of his $300/mo. sites does cover his wife's car payment so it certainly shouldn't isn't anything to be sneezed at.
The key lies in selecting the target markets and going for volume and yes, with over 300 sites, they would have to run on autopilot or staff would be required in order to make it work.  In Adam's case, he further contributes to his overall income stream by offering software and training on his methodologies in a membership site. Nevertheless, if only 1/2 of his 300 sites bring in, say $200/mo., plus one at $10,000/mo. (12,400/mo.) plus income from the other 149 sites…I'd say a very healthy living can indeed be made from developing a good niche marketing portfolio.
Adam's strategy is to set up sites that run on autopilot, effectively setting them up, and moving on to the next one.  This differs from the strategy of identifying one ideal niche and spending your time adding to or tweaking that single site.
Niche marketing is a very interesting strategy that holds a great deal of potential, particularly if you enjoy learning about a wide variety of topics.  If you have been struggling to identify an online marketing strategy because you can't identify a single passion or can't seem to narrow your focus, you might consider niche marketing as a possible option.