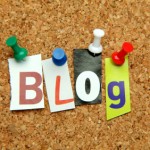 The logistics of setting up a blog for the first time can seem daunting but if you break it down into bite size pieces, it doesn't have to be overwhelming.  Having just been through this again recently, I remembered how frustrating it can be so decided to put together a few instructions for any newbies out there.
First and foremost, you'll need to decide upon and purchase your domain name.  If you are working on the brand of "YOU", your best choice is of course, your name (e.g. LinneaKline.com) or if your name is already taken, you can get creative with it (e.g. Ann Cole, The Network Mom).  You can search for available domain names online at sites such as NameCheap, GoDaddy or most hosting sites.  Check a few reviews for their level of customer satisfaction or any issues that folks may be having with their services, their pricing and you should be good to go.
Once you have purchased your domain name, you will next need to select (and purchase) your hosting platform.  Most of the professional bloggers I know strongly recommend that you choose to self-host rather than host your content on someone else's site.  In other words, if you are debating between WordPress.com and WordPress.org, I strongly recommend going with WordPress.org.  WordPress.com is restrictive about what you can do with your site and you don't ultimately 'own' your site.  Both are free however, in order to self-host WordPress (WordPress.org), you will need to purchase a hosting service.
Selecting a hosting service shouldn't be a difficult task.  I recommend you chat with your friends about their service and spend some time on Google checking out pricing, services and customer reviews.  A few good places to start are HostGator, iPower, and GoDaddy.  This is a very competitive industry these days so you should be able to find a great package at a very reasonable price.
Beyond price, you'll want to compare the features/services they offer. Some provide unlimited domains which will come in very handy if you plan to have multiple sites.  Most now have 24×7 support which will be very welcome if you have a major blog issue in the middle of the night!  A few of the features that you'll want to check for include PHP (is it the latest version, can you use the mail function?), FTP (for file uploads),  and perhaps a WordPress auto install c-panel add-on.  This add-on enables one-click installation of WordPress however, if you hosting service doesn't provide it, you can still install WordPress manually.
Once you've narrowed it down to your finalists, compare speed and availability (sites that are often down won't help your cause), bandwidth (how much traffic you can have…e.g. 1-3 GB), space allowed (videos and photos take more space than text so this one depends a bit on your plans) and file size restrictions (videos can be quite large). Finally, their payment plan may be of import to you.  You may find that you can save a bit if you commit to a longer term with the provider.
Once selected and purchased, you are ready to connect your domain name with your hosting service and begin to install WordPress.  Onward and upward!