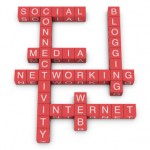 Do you have a social media strategy and have you reviewed it lately?  In speaking with a number of people recently, I learned that many folks jump right in to the most popular sites or those their friends are in and just start participating without giving thought to what their activity can or will do for them.  Time spent on social media sites can be much more effective given a strategy prior to jumping in.
To begin, I think it is critically important to determine where your peeps hang out.   By way of example, a little bit of research may reveal that the folks in your niche don't in fact spend any time on YouTube (HUH?) and any time spent on video development would be wasted effort.   As a great starting point, it is well worth researching the big 4 first; Facebook, Twitter, YouTube and LinkedIn by looking for groups, pages, searching for keywords and pertinent topics.
Conversations on these are very different on these sites as you may be aware.  LinkedIn is more 'professionally' driven and provides a terrific place to meet and connect with other professionals in  your space whereas Facebook is far more social, best known for connecting with friends and family.  You can think of these conversations as following along a spectrum; from the type of connection you may make at work (e.g. LinkedIn), to visiting with your next door neighbor or perhaps friends and family (Facebook) to the typical cocktail party chatter (Twitter).   Since the conversations between the sites vary, you can apply those differences to your strategy, using each to ultimately drive traffic back to your site or blog.
Before settling upon your final strategy however, it is equally important to investigate other large social and niche social sites.  An extensive list of the larger sites can be found on Ping.fm (also a great way to blast content out to multiple sites) and niche sites can be found by searching within Google for niche keywords + "social sites".  You may just discover a large number of your target audience hangs out at these specialized sites.  I'm thinking in particular of sites like "Ravelry" for knitters or Etsy which is an online market for crafters.  You may discover that instead of using YouTube, your folks make extensive use of "Flickr" for photo sharing (this would make sense for photographers for example).  You may also discover large forums, tribes or Squidoo lenses where your peeps are hanging out and it would be a mistake to overlook these opportunities to connect.
Given a list of sites where you'd like most to connect, and knowing that social media participation can easily be a full time effort, consider prioritizing the list by potential so that you can focus on the most important sites first.   Next, decide what to do with each and how to interconnect them.  In other words, will you tweet about hot discounts, sales, or coupons while providing a link back to your Facebook page or your blog?   You could decide that you want to use Flicker for product photos and Twitter to provide customer support, feeding back and forth where or when appropriate.  If several sites are similar, you might also consider adding one at a time to your strategy until you have established a presence and have time to add another site. Whatever your strategy, having thought it through in advance will help you focus your efforts, and be much more efficient and effective in the long run.
I'm a firm believer in using a blog as the 'hub' for online activity.  Not only does Google love blogs but they allow for more detailed communication with your community than some of the other sites.  They can also provide a showcase for your products and for YOU as a brand however, since people like to get to know you before buying, it definitely pays to allow them to get to know you on other sites before inviting them to your blog.
In all cases, please remember that social sites are just that, social.   The majority of your communication should be social and not about selling.  Having said that, use social sites to share more about you, your family and interests, sites and/or articles of interest, jokes, quotes etc.  Only one in 8-10 communications should be selling to your followers.  Allow them in and give them a chance to know, like and trust you before trying to sell to them.  That is what socializing is all about.
I'd love to hear about your strategy.  What have you found to be a particularly effective social media strategy?