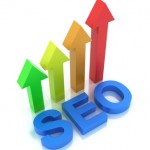 I'm often asked what are the first 5 things to do for improving a site's search engine optimization (SEO) and although I find it difficult to narrow to just 5, and I prefer to do this for the site in question, I thought it might be helpful to write up a generic "Top 5 for SEO".
First consideration should be given to "on-page" optimization (as opposed to "off-page") without which most of our efforts will likely fail.  My "Top 5 for SEO" includes;
Domain name
Site Structure
Meta tags
Header
Content
Domain name If your site already exists (has for some time), and has traffic this may not be an element that you can change however, if you are just starting out with a new site, it is advisable to select a name that contains a primary keyword for your niche.  Domain age does count as well so if you do have an 'aged' site, you'll want to think twice before changing the name.
There are of course, examples we all know (think Google, Yahoo, Zappo's or Amazon) that have succeeded without having done this however, they have millions to spend on marketing.  Most small businesses or start ups would be well advised to choose a domain name that contains a primary keyword for their niche.
Site structure Site structure is an element that most folks don't think about since it isn't visible to visitors however, it is visible to the spiders crawling the net and therefore should not be overlooked.  Directory, folder and filenames are prime opportunities for keyword use that will increase your site's validity to spiders.  If blogging, you'll want to set up categories that reflect your keywords where/when possible.
Also pay attention to any coding errors and/or broken links in order to make it easy for the spiders to crawl your site.
Meta tags Years ago, the 'keywords' meta tag was seen to be the most important of the page tags until too many people tried gaming Google and undertook the practice of 'keyword stuffing'.  Google got wise to the practice and this no longer works.  Today, many webmasters will put just a few keywords in that tag and leave the world to guess at what their real 'money words' might be.
It is more important today to ensure that your title and description meta tags contain keywords and that they are unique for each page on your site.  This may well be one of the easiest elements to forget but if you use a WP plugin for SEO (All in One Pack for SEO for example), it will help you remember your meta tags.
Header If possible, include your primary keyword in your header.  If your domain name does not have a keyword, you might consider using a tagline.  It is important to note that spiders don't read graphics so you'll need to include keywords in your image 'alt text' in order to make it count.
Content Last but certainly not least, is the all essential content.  Not only is it important to provide valuable content for your readers, but for the spiders as well.  Where possible, try to include keywords in your post title (h1 tag), content, images and links.
I say 'where possible' because it is essential that you *not* be tempted to stuff keywords but rather maintain a normal writing style.  Some SEO practitioners believe that including a keyword 3 times in the first paragraph is essential to ranking.  Others prescribe to a percentage of overall use methodology.  Both are worthy of testing as long as you maintain a 'normal' style of writing.
Easily forgotten and often ignored are images and links.  Be sure to include keywords in the 'alt text' tag of your images and in the anchor text of your links.  Finally, remember to use keywords when naming your images.  Images are filenames too, and will count towards optimizing your site.
That's it.  You now have my "Top 5 for SEO" and I hope you find it helpful.  There is no time like the present to review your site and see how you stack up.  Are you providing all that you can in order to rank higher in the search engines?  Please share your comments below.