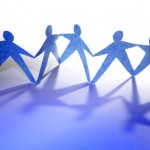 I may be opening a can of worms on this one but I'm very curious to hear what folks are truly thinking about tribes with respect to the value they add to your overall business plan and goals.  In case you haven't heard about tribes with respect to online marketing, the concept is derived from Seth Godin's Tribes that advocates leaders step up to lead others in a given area or specialty and the those that follow form a community or 'tribe'.  First, let me say that there are tribes and then there are tribes.
I do love the concept of tribes, particularly for bloggers where like-minded folks can gather, share and learn from one another, syndicate content, mastermind or possibly even collaborate on projects.  Rather then simply going it alone, a tribe can be the ideal place to meet great people, gain alternate perspectives, and a sense of community…a truly powerful concept.  The concept relies upon reciprocation and cooperation rather than competition.
An added benefit of 'tribing' is directly related to content syndication.  Depending upon the tribal system, you may either have an assigned day or accumulate points to earn your 'turn' and have your content shared by others in the tribe.  When the tribes stampedes through your site leaving comments and /or sharing your content on social sites you gain not only the traffic but social proof, and links from a multitude of IP addresses…a good thing in Google's eyes.
The flip side of the coin (isn't there always a flip side?) and the question I pose is what value that traffic has to your overall success?  Arguably, social proof, syndication and links provide enough value to make it worthwhile however, depending upon the tribe's system, that may not necessarily be so.
In the not too distant past, I belonged to a tribe that seemed to be great on the surface but soon led me to question the tactic.  I did see tremendous spikes in my traffic whenever I posted something new but I also saw that as my traffic rose, so too, did my bounce rate.  If you aren't familiar with Google's bounce rate it "…is the percentage of single-page visits or visits in which the person left your site from the entrance (landing) page. Use this metric to measure visit quality – a high bounce rate generally indicates that site entrance pages aren't relevant to your visitors."  Google doesn't like pages that aren't relevant so this is definitely not a good thing.
Essentially, the system that particular tribe was using enabled folks to quickly share content without staying on a page.  No, that wasn't the intent however, it was practice to many of the members.  Traffic gained was most assuredly superficial.  Folks were simply sharing and bouncing right away to claim more reciprocation points from other 'shares'.  Fortunately, some tribal systems do promote deeper connections by also giving "points" for comments, and other connections made on someone's page which helps to resolve the bounce rate issue but a couple of my questions still stand.
Participation in a tribe means devoting valuable time giving, connecting and sharing before receiving.  Having said that and given the value of syndication, links and social proof, do you think that the value gained is worthy of the time given?  Does a page shared negate increased bounce rate?  Does a spike in traffic on one day each week outweigh the rest of the week?  And while I'm at it, what of social connection numbers?   Should they really 'count' if they are connections made purely for points in a system?  We all know folks who simply go after numbers.  Isn't it more important to engage with one person than to simply connect with many?
What are your thoughts about the value of tribes?  I'd love to hear your comments.