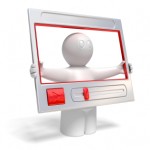 Are you using video yet to help build your business?  In keeping with my commitment to bring you great resources for building your business, I want to share this review of one of the BEST classes that I've taken to date… bar none. It has recently been promoted by some of the big guns (including John Carlton) so I know I'm not alone in my assessment.
You've no doubt heard about and seen many video class offerings lately because the fact of the matter is, video works.  Video sales letters can convert 2x better than text so it is in every online marketer's best interest to learn how to use video effectively.
This particular class is Video Sales Letter Workshop 2.0 (VSLW2.0 for short) but it's not just any video workshop.  This workshop is led by Lou D'Alo and Chris "Mr. Moneyfingers" Haddad, a powerful partnership.  Lou is stellar at guiding students through the process, keeping them involved, motivated and moving forward.  Chris is the guru's (secret weapon) pro at creating compelling, high converting video sales letters (commanding up to 30k a pop), who spins, or 'riffs' on the fly like crazy.
During the workshop, Chris not only teaches his system (a system that works without yet having a product or the need to be on camera) but provides hands-on guidance on video of your own.  He provides that guidance through feedback and "hot seats" during which time he does his 'magic' for you.  That is one of the things that first grabbed my full attention (actually a few things).  I learned a number of things and got great value just from listening to the promo video!  (If you want to check it out for yourself, and hear Chris do his magic, here is the latest).  Lou's leadership, complimented by Chris' talents and system creates a truly dynamic learning environment.
While the initial reasons I signed up were because of the team and the opportunity to learn how to create the videos without having to be on camera, I was thrilled to have also gained access to the community.
Chris' spin or 'riff' – It is hard to fully appreciate this one until you hear Chris in action during a hot seat but once I did, I wanted more.  (If you want to hear him for yourself, check out this workshop video). I was also attracted to the idea that if I were to do a 'hot seat' Chris would do his magic for me!  Priceless!  I'm still in awe of Chris' talent, so much so that I've listened to the recent guru promos to hear more even though I've been through the class.
Creating effective video without having to be on camera – Transitioning to video can be much more challenging than it first sounds so the idea that you can still create high-converting videos without first overcoming that hurdle is very attractive.
Learning environment – I have yet to run into another class that was as dynamic and interactive as this one.  The camaradrie established among the students was amazing.  Granted, this is highly dependent upon the students involved however, I also believe it had a lot to do with the leadership and structure of the workshop.  Included in the workshop was a contest that got everyone running at full speed.
Contest?  – Yes, Contest.  This wasn't one of the reasons that  I took the class but I do believe it contributed to the participation level of the class.  Students worked hard to win the contest because the 1st twelve to finish were entitled to 15 minutes with Chris and the winner got  an hour of Chris' time.  Again, Priceless!  That exploded the competition.
The downside was that in order to fully participate (and join the contest), it did take a lot of work. As with all courses, you get back from it what you put into it.  The work was fast-paced, but fun and if you do the work, you exit the workshop with a video that converts.
In summary, Video Sales Letter 2.0 Workshop is one that I highly recommend.  I learned a LOT and thoroughly enjoyed the entire experience.  If you get a chance to take this one, jump in.   Even if you are not in the market for a new course right now, at a minimum you need to check out the VSLW2.0 Promo Webinar Replay to get tons of value (Chris gives you his exact, step by step formula) and to hear Chris do his thing.  I know you'll be impressed!
After you've listened to the video, please leave a comment and let me know what you think.  Are you as impressed with Chris as I am?